Crystal Sphere
Scrying balls | Crystal ball
A crystal ball is an unimaginable divination tool utilized by psychics to explore their future. Our collection of crystal spheres for divination is ideal for anybody inquisitive about investigating the long run. And picking up understanding into diverse perspectives of their lives. Precious stone balls, moreover known as scrying balls, have been utilized for centuries as an apparatus for divination and prescience. The smooth and intelligent surface of a gem ball permits the client to look into it and see pictures, images, or messages that can give direction and understanding.
Our collection incorporates a wide assortment of gem balls made from diverse sorts of gems such as quartz, amethyst, and obsidian. Each precious stone has its possess special properties and vitality. For example, clear quartz crystal balls are believed to amplify energy and enhance clarity, making them ideal for divination. Amethyst crystal balls are believed to have a calming and soothing energy, making them ideal for meditation and healing. Obsidian crystal balls are believed to have a grounding and protective energy, making them ideal for divination and protection.
Our collection includes crystal balls of different sizes and shapes, from small and delicate to large and bold. Each crystal ball is handcrafted by skilled artisans and imbued with their own unique energy. Our collection also includes crystal balls that have been charged with Reiki energy, to enhance their divination properties.
How do crystal balls work?
They act as mirrors and reflect in their facet what is embedded in your subconscious mind by putting you in a hypnotic state. A crystal ball is simply an amplifier to focus your mind and free your third eye. Whether you are a novice or an experienced practitioner, crystal ball gazing is an excellent exercise to help you develop your psychic abilities and spirituality.
How to choose a crystal ball?
Most gem balls are made of clear glass, but you'll be shocked to know that a great psychic ball does not ought to be translucent. You'll be able to utilize cleaned stone balls such as: amethyst, smoky quartz, obsidian or any other semi-precious stone of your choice.
How to use a crystal ball?
Before looking into your crystal ball, you need a quiet space where you will not be interrupted. If you already have a space for meditation, that will do just fine.
For beginners, it is easier to connect with your crystal ball with a dim light. With practice, you will be able to observe your crystal ball in daylight.
Put the crystal sphere on a stand before you.
Sit down and unwind. 
Place your hands on your crystal ball for 2 minutes to infuse it with your energy.
Set your intentions, visualize your question.
Remove your hands from the crystal ball.
Look into the crystal ball. Try not to blink or look away.

When the crystal ball starts to obscure, otherwise you see haze show up, remain centered and proceed to see profoundly until you see a picture shaping.

When the images begin to blur, you'll be able to see away.
How to read a crystal ball?
The reflection of your subconscious mind can usually be seen as a blurred image or as smoke in the form of fog. Remember that most of the images you see in the crystal ball are symbolic. Interpret them according to your current situation to determine your prediction. Interpreting the appearances may be tricky at first, but it will certainly get easier with practice.
In order to help you in your analysis, here are some meanings and interpretation guidelines:
White smoke: Success, luck.
Golden smoke : Prosperity.
Grey smoke: Misfortune.
Black smoke: Bad omen.
Green smoke: Health and happiness within the couple.
Orange smoke: Anger, betrayal, a period of doubt approaches.
Red smoke: Warning.
Silver smoke: Difficult times are ahead but will give way to a long period of happiness.
Yellow smoke: Obstacles are to be expected on the emotional and sentimental level.
How to cleanse a crystal ball?
After using your crystal ball, it is essential to clean it. The regular purification of your crystal ball allows not to alter its functioning because of accumulated negative energies. The purity of the crystal ball is essential for the practice of divination. For this, use a sage stick, incense or cleansing crystals such as selenite or citrine.
How to charge a crystal ball?
Place your crystal ball in the moonlight. Full moon nights are good for recharging your crystal sphere. Do not place your crystal ball in direct sunlight as this may weaken its power, and you may not be able to read your future.
Our tips:
Storage: Cover your crystal ball with a light sheet or cloth to conserve its energy.
Handling: You should be the only person handling your crystal ball so that it is not affected by the energy of others. This could distort your readings and interpretations of the images.
Also discover our dice divination.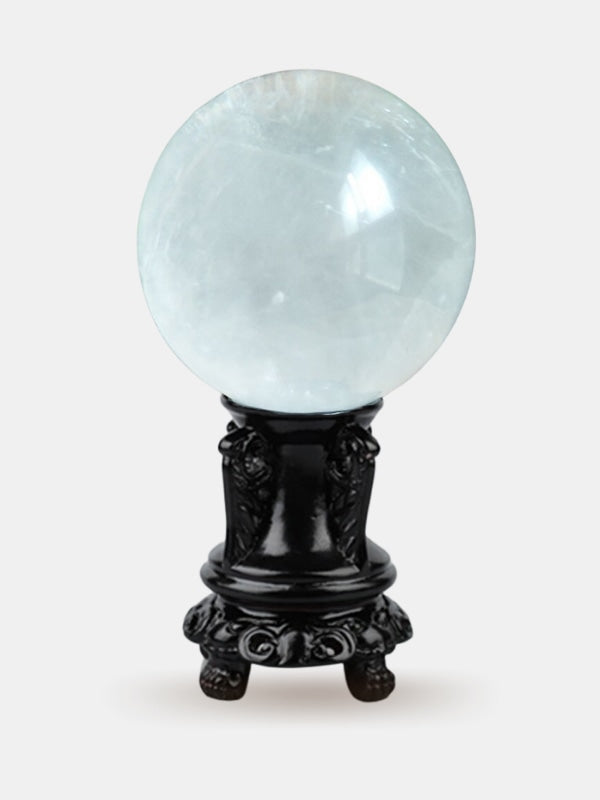 Sale price

$39.99
Regular price

$49.99
WORLDWIDE SHIPPING
Free worldwide shipping above 30$
7/7 CUSTOMER SERVICE
Our team is available 7/7 to answer all your questions
SECURE PAYMENT
All payments are encrypted by SSL secure page
EASY RETURNS
You have 30 days after receipt to return any items