Pentagram necklace
Each necklace highlights a striking pentagram pendant, a powerful symbol with profound spiritual and cultural significance. The pentagram is a five-pointed star that has been utilized all through history as a symbol of protection, balance, and unity. It is regularly related with the occult, enchantment, and spiritual traditions. Our collection highlights a range of styles, from delicate and minimalistic designs to bold and statement-making pieces.
Pentacle necklace
The Pentacle is an encircled Pentagram. It is a powerful symbol of protection, but it can have different interpretations according to the cultures. It is associated with spiritual transformations and the domination of the spirit over the elements.
What is a pentacle necklace?
Also known as pentagram jewelry, a pentacle necklaced is designed with a pendant in a shape of a pentagram, which is a five-pointed star. It is known as a symbol of faith among pagan and Wiccan traditions, and it is additionally utilized as a symbol of protection.

Our Pentagram Neckbands are handcrafted with cherish and care, utilizing high-quality materials such as gold-plated or sterling silver chains and pendants. The pendants are carefully detailed and cleaned to ensure a high-quality wrap up. Pentagram necklaces are frequently made of silver or other metals, and they can be worn by both men and ladies. This metaphysical five-pointed star is a symbol of life, balance and knowledge, the pentacle accessory is a charm with protective powers.
Each necklace comes with a movable chain, permitting you to discover the culminate fit. Whether you're trying to find a necklace to wear day by day or to utilize during rituals, our Pentagram Necklace collection has something for everybody.
Whether you're a spiritual seeker, a fan of occult-inspired fashion or simply looking for a unique and powerful statement piece, our Pentagram Necklace collection is a bold and meaningful way to express your individuality and beliefs.
What does a pentagram necklace mean
A pentagram necklace may be a popular choice for those who need to express their beliefs or appear their support for a cause. The pentagram is a five-pointed star that symbolizes distinctive things to diverse individuals.
It is considered as a strong protection symbol to ward off evil. And represents the five elements of nature: earth, air, fire, water, and spirit.
Some people simply think it looks cool! Whatever your reason for wearing one, a pentagram necklace can be a beautiful and stylish addition to your Wiccan jewelry collection.
Pentacle necklace pendant for men and women
Find out the widest range of pentacle pendants for men and women. With a triple moon, a Tree of life or decorated with a semi-precious stone, you'll discover the foremost lovely pentacle necklaces.
The pentacle embellishment pendant is available in a collection of metals, counting sterling silver, gold, and bronze. You will be able to discover them in an assortment of sizes and designs to suit your person design.
On the off chance that you're trying to find a one of a kind blessing for somebody extraordinary, the pentacle necklace pendant could be an extraordinary choice. It is beyond any doubt to be a hit with anybody who gets it.
Sale price

$14.99
Regular price

$19.99
Sale price

$19.99
Regular price

$24.99
Sale price

$19.99
Regular price

$24.99
Sale price

$19.99
Regular price

$21.99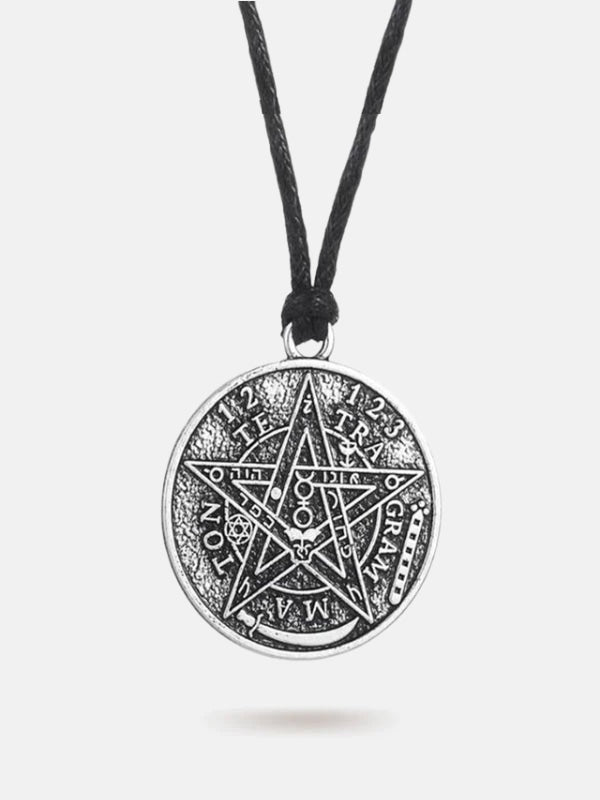 Sale price

$17.99
Regular price

$19.99
Sale price

$17.99
Regular price

$19.99
Sale price

$17.99
Regular price

$19.99
WORLDWIDE SHIPPING
Free worldwide shipping above 30$
7/7 CUSTOMER SERVICE
Our team is available 7/7 to answer all your questions
SECURE PAYMENT
All payments are encrypted by SSL secure page
EASY RETURNS
You have 30 days after receipt to return any items